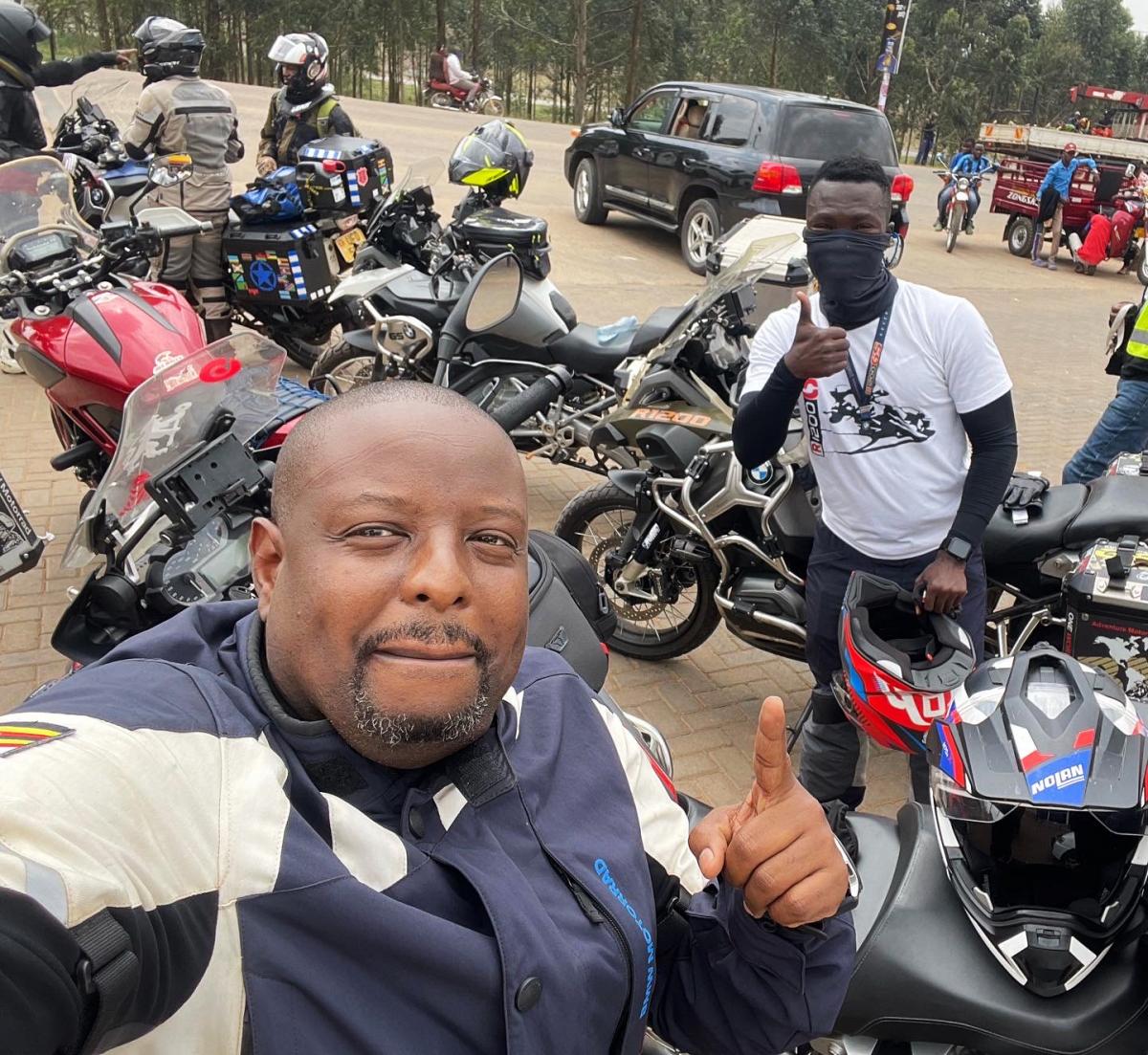 After 3 years of riding mostly within the capital Kampala, I had an opportunity to ride with friends to neighboring Rwanda. It took several nervous days of preparation that mostly involved getting my mind ready for a trip that discomforted everyone close to me.
On Sunday 14th August 2021, I was up before my alarm - I'm not sure if it was the anxiety or some body-clock efficiency of sorts. After my shower, I went over my packing to make sure I hadn't forgotten something critical. I know myself to lose concentration if I realize midtrip that I left something behind that was as critical as rain gear.
I joined the rest of the rider group for breakfast at Coffee, At Last, Munyonyo where it started quiet and less than an hour later, burst into life with bikers, press, and fans. Everyone was there to see us off and at precisely 10.00 hrs we departed for the Katuna Border. It was a typical Ugandan morning with a little sunshine and a nice tropical breeze.
We made our first stop 145km later in Masaka - this was brief for refreshments, bathroom, and fuel for those with lesser tank sizes. Approximately thirty minutes later we were on the road again heading South West a journey that took us past various upcountry towns and along the outskirts of Lake Mburo National Park (Uganda's smallest conservation area popular for Zebra). Another 140km and 80 minutes later, we made another convenience stop in Mbarara.
Once everyone had snacked, was refreshed, and fueled, we proceeded to arrive at the Katuna border around 1630 hrs Ugandan time. While here, we were swamped by local customs agents and money exchange vendors. It was difficult to decide how to proceed as they offer one little room to settle down or the opportunity to figure out their surrounding. While some members of the group settled for the use of one agent, a few of us thought to try our luck getting cleared without the services of an agent. It turned out to be pretty straightforward and the customs officials were very helpful.
After we made it through the border processes, we found Katikati and Bernard - members of the KFB (Kigali Free Bikers) waiting for us on the Rwandan side. After briefing on the strict traffic rules and ridding formation, it was time to head to the capital. Apart from the strict speed limits, it was also getting dark very quickly and this 80 km journey from the border to the city lasted 2 hours. Riding at slow speeds while tired was a very taxing experience for all of us.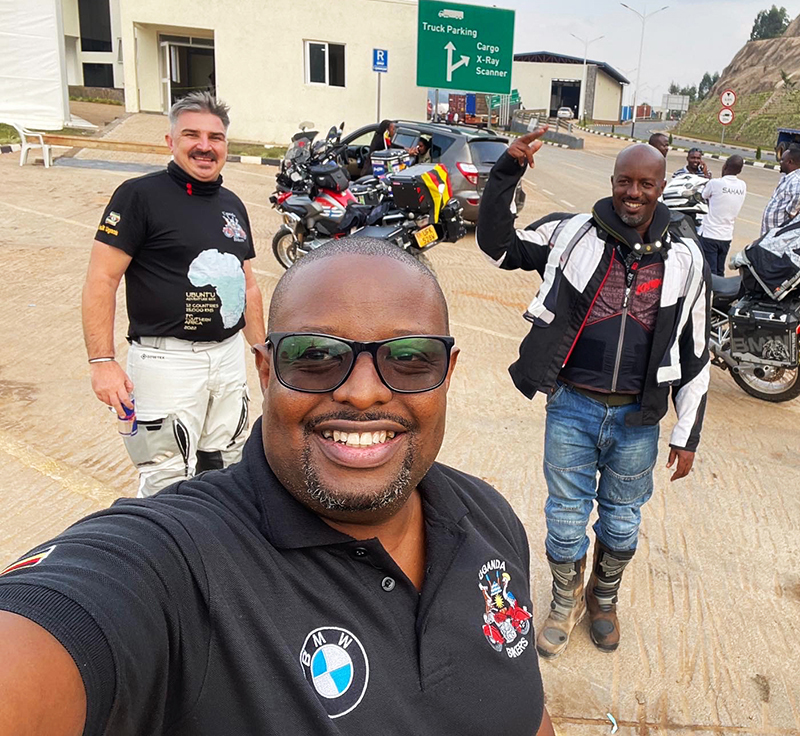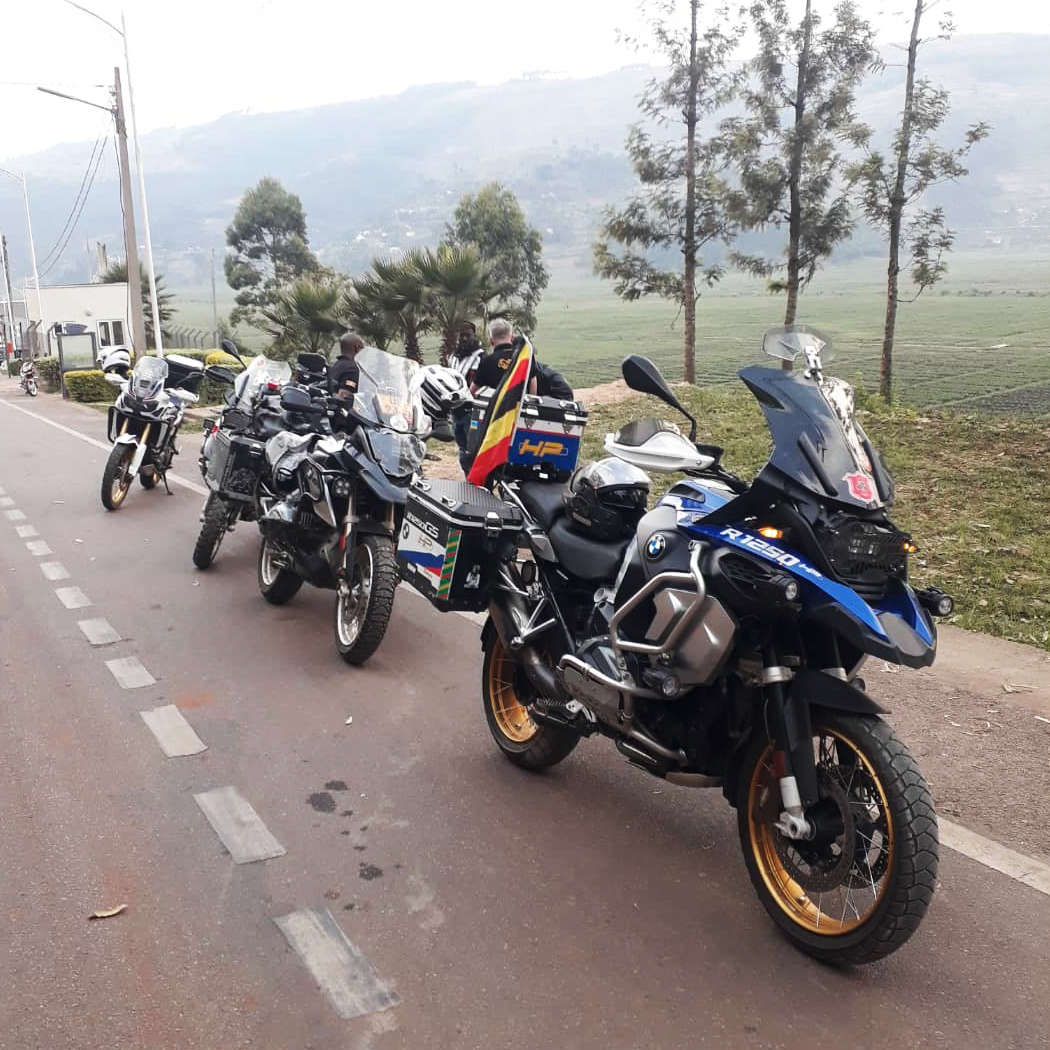 Our guides from the KFB led us gracefully as we snaked our way through the evening traffic. We arrived at Step Town hotel at 8.00 hrs Kigali time; we were shown to our rooms that had nice hot showers and comfortable beds. Although the TV in my room didn't work, I was too tired to bother reception about it. After all, the wifi was great and the panoramic view of the city by night was a pretty descent distraction. Step Town is located in one of Kigali's many hilly suburbs.
The following morning we had an early breakfast and thereafter proceeded on our 160km journey to Rusumo; this is Rwanda's South Eastern border with Tanzania. The road network in this part of the country is just as impressive as the one we experienced coming in from the North (Katuna). We had made it to two border crossings of this small remarkable nation also known as "The Land of 1000 Hills".
After hydrating and fueling our vehicles, it was time to make our journey back to Kigali where we hoped to arrive in time for an early dinner. We decided on a coffee stop at Migongo art coffee in Kayonza. It cost us just $10 for 4 coffees and 4 light pastries in this creative and well-managed establishment; I recommend it highly.
The rain waited for us to set off and promptly joined us for the rest of our 60 km journey to the city. We arrived drained right into the city traffic at peak hour; this time we also decided to try another hotel. An old contact in James recommended Olympic Hotel which we found very comfortable with spacious, functional rooms. It's a typical city hotel with friendly staff and several amenities including; a sauna, massage, a full bar, nightclub, wifi, and conference facilities.
After a well-deserved tasty dinner and drink, we retired to our rooms, it was planned that we would have an early start for a return journey to Kampala the following day. At 8.00hrs Kigali time we set off winding our way through the Kigali morning traffic before exiting this beautiful and clean "African Model City". We filled our tanks (fuel is cheaper in Rwanda) and headed back North East to Uganda.
The border procedure at Katuma was even quicker on our return and it was pleasant for us to be back riding on the left side. We arrived 7 hours later at 17.00hrs Kampala time. A fantastic 3 days that I would be delighted to experience again within the next three months.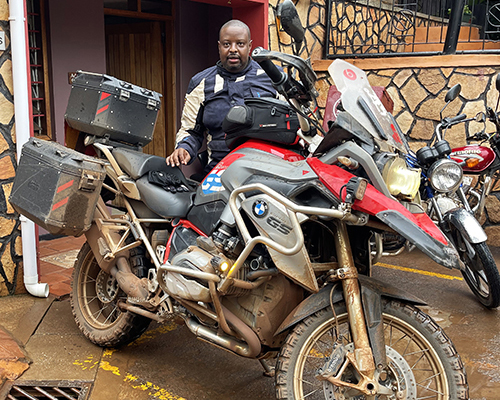 Summary Fact Sheet
Lights: flashing/throbbing spotlights are not allowed on Rwanda streets.
Speed: following traffic signs/speed limits could save you the inconvenience of dealing with Rwandan authorities.
Border: you can handle your own customs and immigration paperwork. It's surprisingly easy and straight forward + the officials are very helpful. Agents don't make any difference in saving you time as they claim.
Documents: you would need a vehicle logbook, permit, passport/national ID, COMESA insurance (National ID for EAC)
Hotels: you could find a decent hotel for $40 to $60 per night for a single room (with breakfast)
Breakfast: there's very little variety outside eggs, bread, fruit, juice, and coffee
Clock: Rwanda is 1 hour behind Uganda and other East African countries - you gain an hour as you enter and lose it on your way back
Language: English is used often and wide enough for one not to struggle too much with communication
Traffic: they keep right
Currency: 1000 Rwandan Frank to 1 USD
igufasafais.com, coffeeatlastug.com, mahaliug.com