After weeks of planning, we were finally ready for a great family adventure to Murchison Falls National Park. Located at the northern end of the Albertine Rift Valley, this 3,840km2 conservation area is Uganda's largest national Park. It's also dissected by the World's Longest River - River Nile as it journeys North to the Mediterranean Sea.
The Big Day: surprisingly, the kids were up first and ready with their luggage in hand, before some adults could make their way to the bathroom. A little while later, everyone was set, and by this time the energetic younger ones had already chosen their seats in the Safari vehicle. We left home by 7 am in time to beat the morning Kampala traffic.
Our journey North led us through Kawempe, Kawanda, Luwero, and many other small rural towns. Kabalega Dinners, a popular tourist stop is located along the highway and close to Zziwa Rhino sanctuary - this was our chosen brunch stop. Apart from the friendly staff, it's always pleasant to use their clean bathrooms and steady wifi. They also have large parking, gardens, charging options as well as a craft shop.
We proceeded North slowing down at the Karuma bridge where one can catch a glimpse of the ragging Nile as it makes its way to Egypt. Drivers are not allowed to stop so vehicle occupants need to be alerted to have their cameras ready. It's common to find baboons and vervet monkeys here - although not advised, some travelers throw food through their car windows to these expectant primates.
A few km after the bridge, we arrived at the park gate. We were all excited to be so close and in game-drive style, made our way through the thick vegetation and from time to time spotted a kob or bird specie both of which are very common. 15km later, we arrived at Chobe Safari Lodge in time for a late lunch. We were welcomed with a cold fresh juice and instantly set out thereafter to appreciate our safari surroundings. There were hippos wallowing in the mud by the shores, a monitor lizard basking in the sun, warthog grazing and lots and lots of birds.
Our accommodation now known as the family cottage used to be the manager's residence at some point in the past. This three-bedroom bungalow also has two bathrooms, a living room, a dining and a kitchen. It has the necessary fittings like a TV set, cable, DVD player, fridge, cooker, oven, air conditioning, microwave and electric iron. It was affordable and comfortable to fit all seven of us (4 adults and 3 children).
The Chobe Lodge restaurant has a cozy interior that opens out to an outdoor airy patio that overlooks the Nile river. This is a great location for one to have their day meals with the always stunning backdrop that mixes water and wild. The kids were more interested in the pool which was where they spent the entire rest of their day and only returned to freshen up for dinner. The staff were friendly and very accommodating allowing us the flexibility to customize our orders; in some cases, the head chef was available to take the orders herself.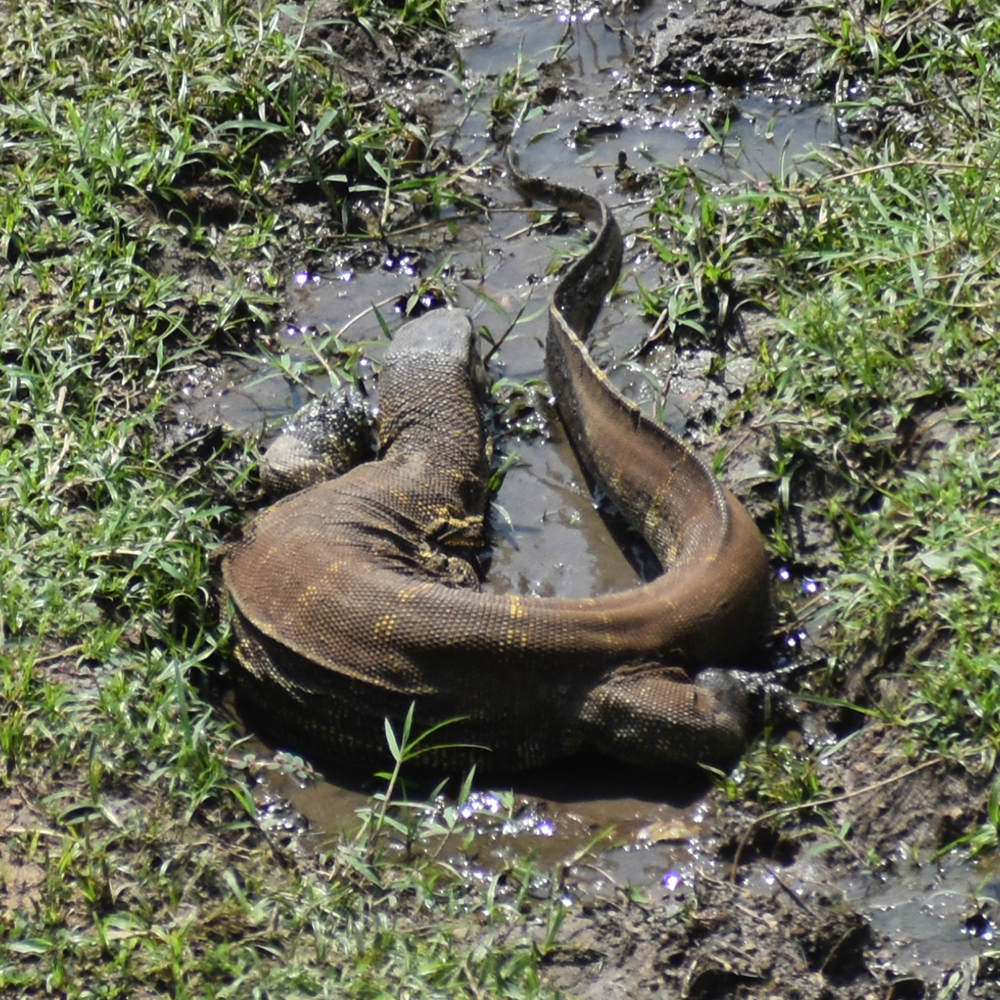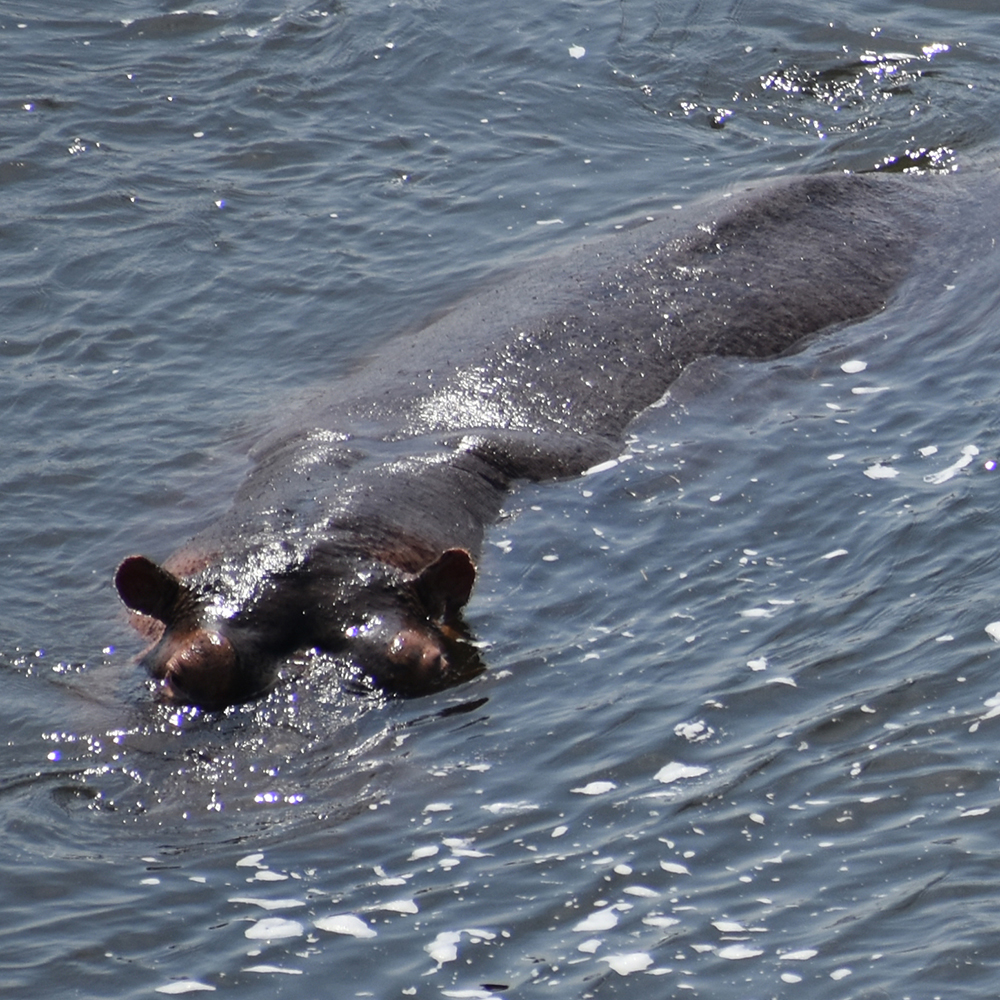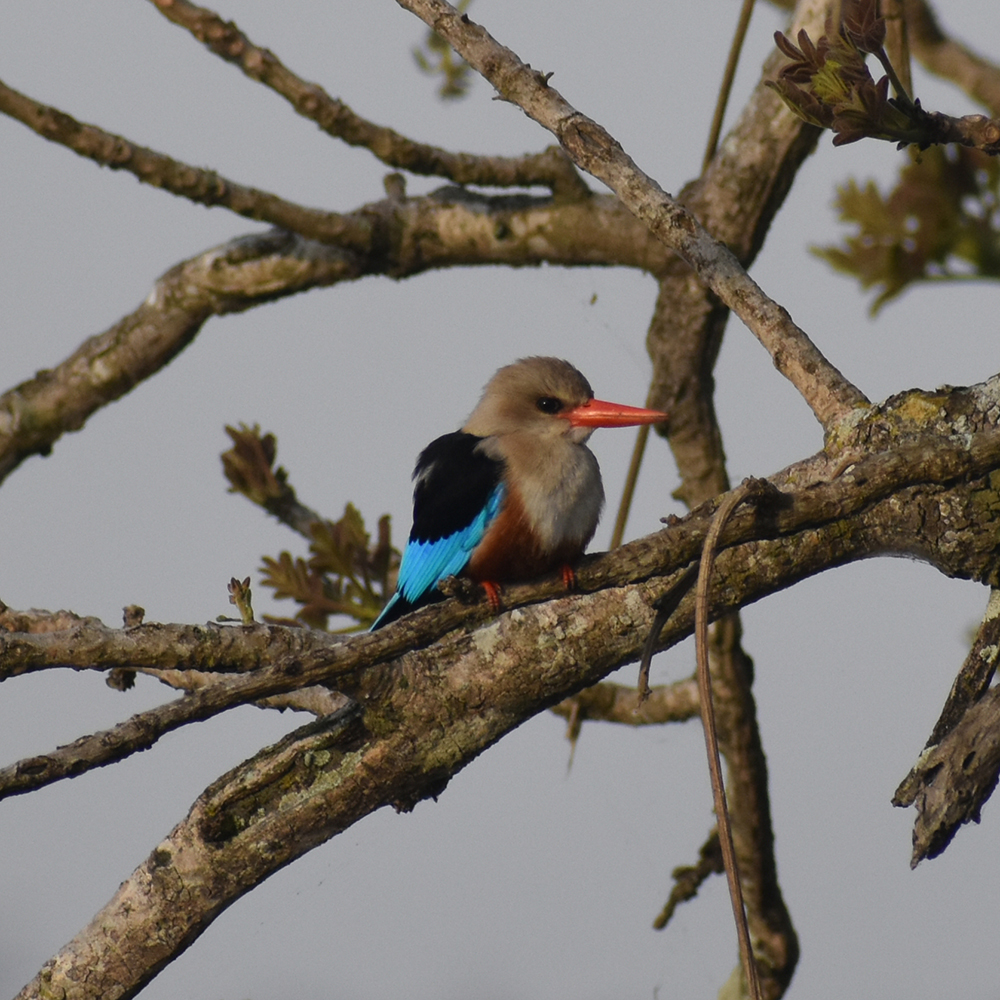 It is the procedure at Chobe for clients to be ridden back and forth in the evening between rooms and the main building on a professionally manned golf cart. This is a way to keep clients safe in an environment where humans are the invaders, it's not advisable to walk around in the evening. After dinner, we took group turns to get back to our family cottage for the night. The driver was a friendly and kind gentleman who had the ability to spot an animal through the trees even where there was no light.
Another early start - I could not resist a cup of freshly brewed Ugandan coffee as I waited for everyone to get ready. Later when the group was whole, it was time to get the popup roof opened and see that everyone was briefed and comfortable. We had ordered our breakfast at dinner the night before, the lodge team had this ready for us.
We set off at 7.00hrs and less than 20 minutes into our game drive, there was our first sighting! It was a herd of Rothchild giraffe grazing right by the road, finding these 8 to 10 gracious animals made it promising so early in. It was all worthwhile already I tell you - this as we carried on deep into the Savanah jungle, we were enjoying the serenity of our surroundings that were complemented by the beautiful equatorial climate.
At some point, we came across a fallen tree right across the road. This is common in some sections of the park and is evidence of elephant activity as they will knock trees down for various reasons. One of the main reasons is for food as they love to eat a tree's leaves, fruits and bark. They knock down the trees with a stomp or uproot them with their trunks. Thankfully we had chosen the perfect vehicle for this adventure and were able to avoid the barricade by driving off-road and around it.

Later into our game drive, we came across another herd of animals; this time buffalo in the hundreds. We were delighted to participate in a staring contest with the inquisitive group this went on for a few minutes. We carried on catching various sightings of Jackson's Hartebeest, bushbucks, warthogs, Uganda kobs, the oribi, and defassa waterbuck among others. There were lots of birds too.
We arrived at Paraa Safari Lodge at 11.30hrs after an exciting morning with lots of stories to share. We had so much fun that we forgot to have our breakfast until now. Considering Chobe and Paraa are run by similar management, we were allowed in with our breakfast. We also had access to the pool and were set to have lunch here as well.
I took a sit at the pool bar and everyone else dived into the limitless pool that overlooked the Nile river. I got into conversation with a guest and the barman who told of an eventful morning that involved a fully grown elephant guest. He had come into the lodge premises around breakfast, knocked down a large coconut tree, and crossed to another end of the property. A little later, he used the same route and returned to disappear back into the savannah wilderness that he originally came from.
After a sumptuous lunch, we were off to view the mighty top of the falls where the River Nile squeezes through an 8-meter gorge and drops 50 meters producing a magnificent natural spectacle. I've since lost count but I could estimate that I have visited over 20 times and am still fascinated every time.
The kids had many questions and we all agreed that this was the highlight of our trip to Murchison. After taking as many photographs as we could, it was time to head back east to Chobe. We saw lots of elephants on our route back and at some point even a mother with her young.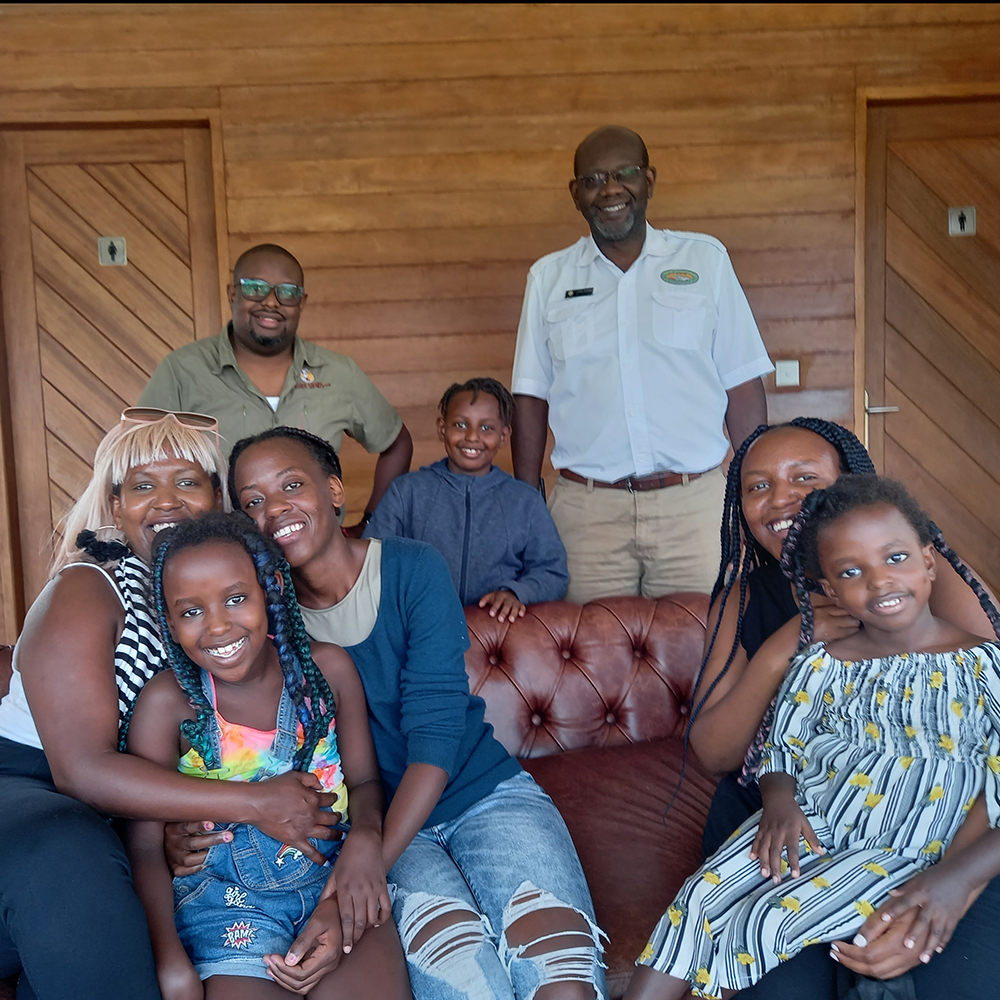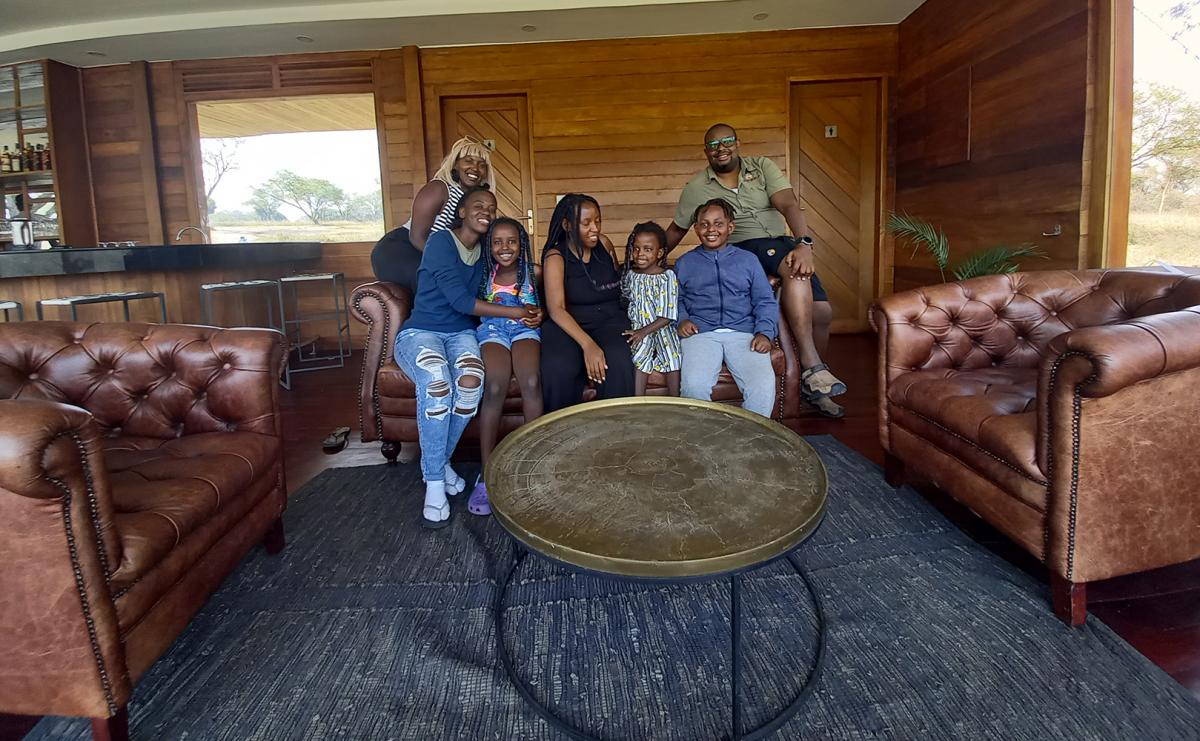 We arrived back at the lodge at 19.00hrs and my friend Edwin Sebunya also the Manager of this well-run establishment was at the entrance. We sat down to some well-deserved refreshments in his company as we shared our day's experiences. We later had dinner and retired to our cottage for the night. That night there had been an elephant very close in the bushes next to our cottage it was spotted by the golf cart driver.
The following morning, we packed our bags - although we had enjoyed the comfort of the lodge and loved all the food and service, it was time to say our goodbyes. We had one last big breakfast, settled our outstanding, and set off for the city. As we left, Edwin suggested we go by the watering hole; here management has set up a well-stocked bar with a glass wall overlooking the manmade watering hole. Animals can be viewed here at various times of the day especially when it's very hot. When we visited, we saw giraffes, kob, and at least 8 crocodiles.
On our way out, more giraffe and elephant sightings - each offering great satisfaction. We made it to the gate a short while later and then onto the paved highway Southbound towards Kampala where we arrived sometime in the mid-afternoon. It was the end of yet another great Ugandan adventure!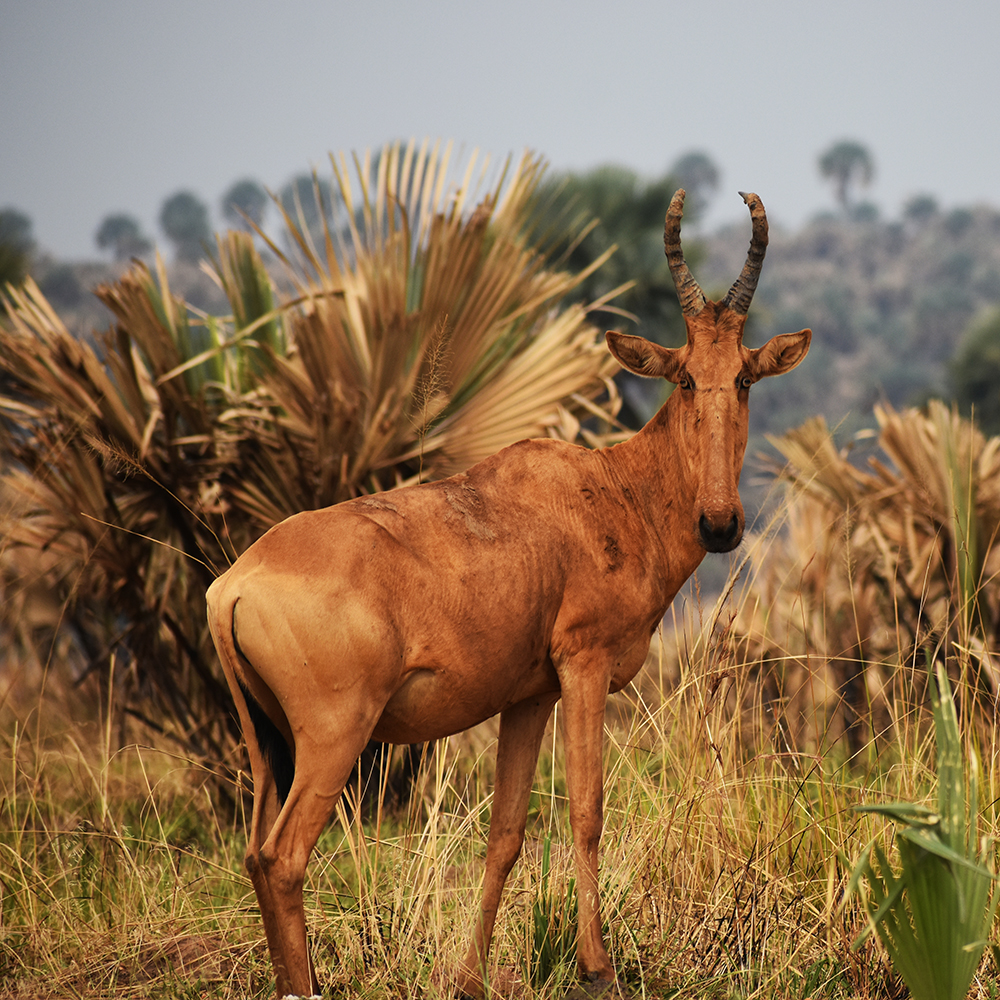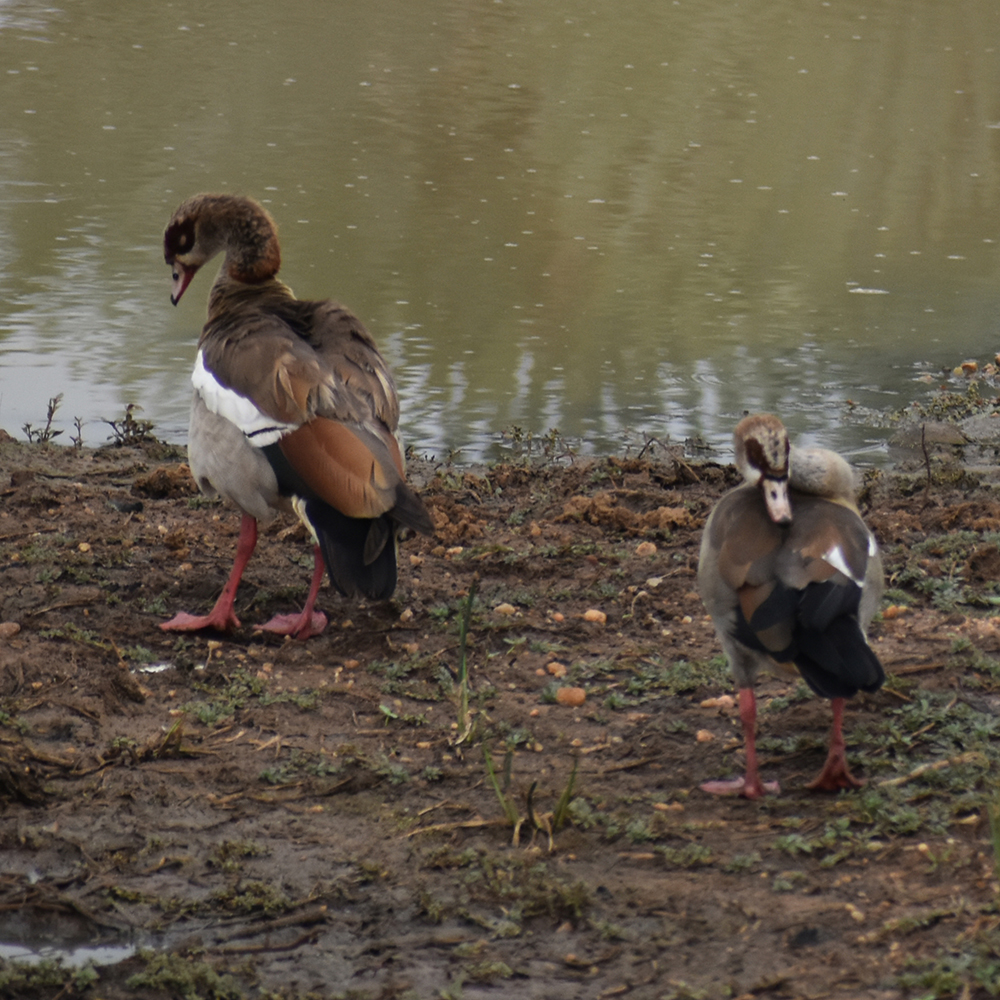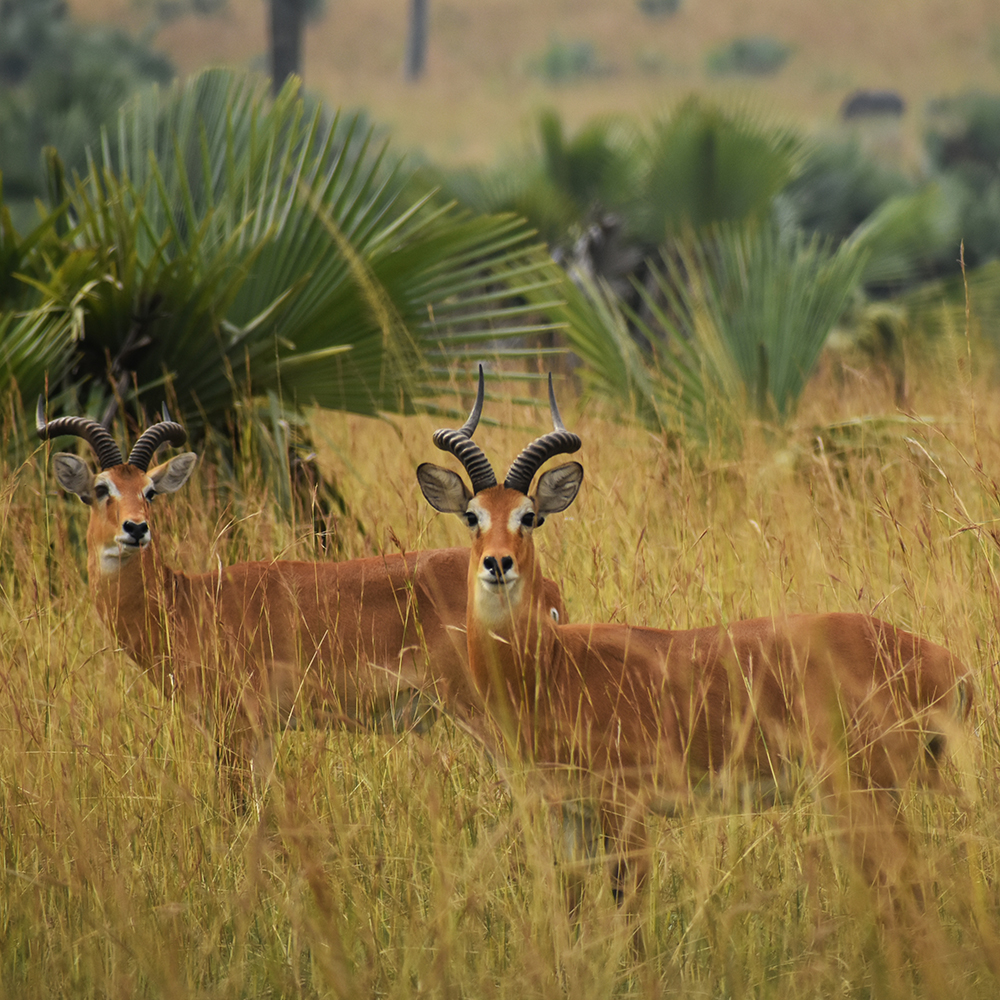 Summary Fact Sheet
Speed: 40kph is the speed limit within the park boundaries, this is to avoid drivers knocking down animals.
Rubish: littering in the park is prohibited, I recommend keeping any rubbish in your vehicle until you get to your next destination where you can dispose of it properly
Feeding the animals: It's forbidden to feed or tease the animals as this might be dangerous for your safety.
Safe stops: Do not get out of the vehicle at undesignated stops/areas as in the wild, there might be an animal 
Hotels: there are several hotel options in Murchison Falls NP ranging from camping to luxury-style accommodation
Money: it's advisable to carry cash (ugx, usd) as visa is not a stable service in the park due to network inconsistencies
Written By: Albert Ntambiko Katwire - Director at igufasafais.com, coffeeatlastug.com, and mahaliug.com