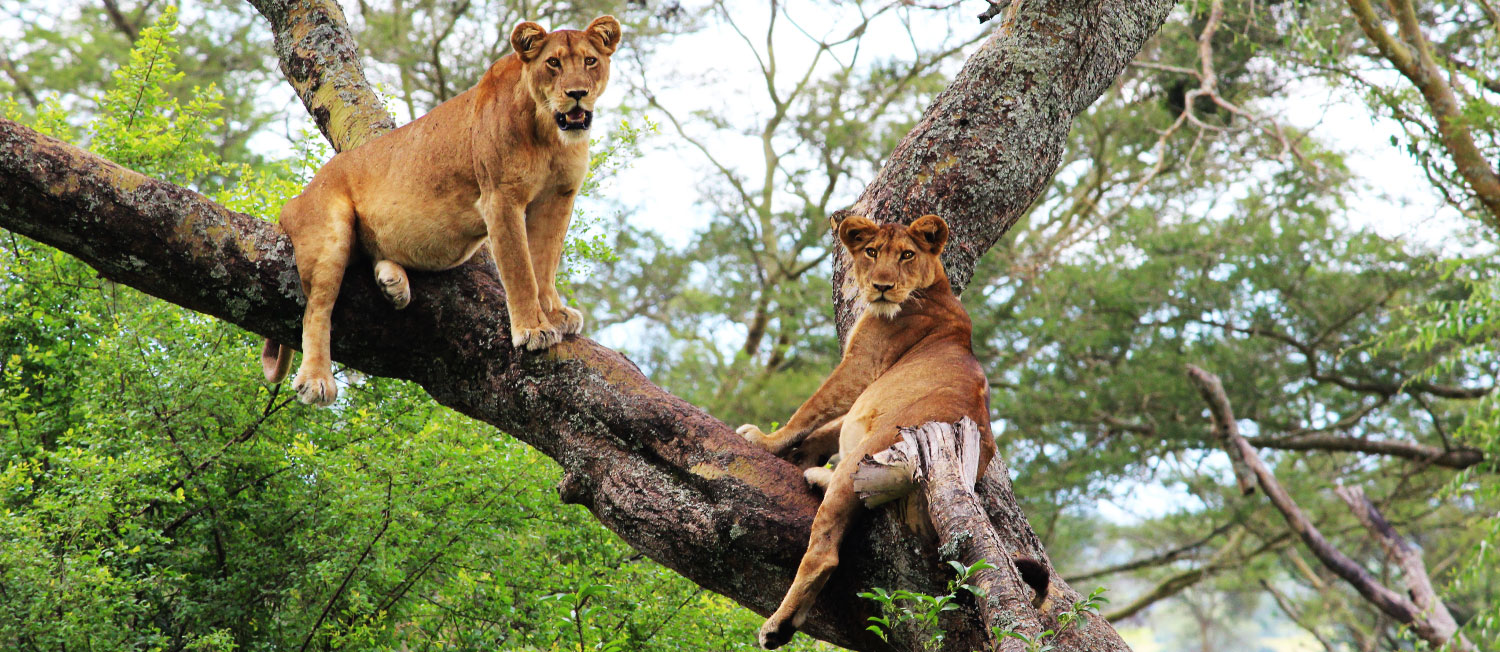 Highlights
- Cross the Equator
- Gamedrive on 1st day of safari
- Visit to the Igongo Cultural Museum
- Trek MOuntain gorillas
- Visit 2 East African countries using 1 touris visa
- Full day in the open savanah of the Masai Mara
Day 1: to Lake Mburo
9.00hrs start - You will be met at rendezvous point of choice within central Kampala by our Igufa Safaris' guide. Transfer south west to Lake Mburo after briefing where you will arrive in the early afternoon hours.
Lake Mburo is Uganda's smallest national park, but certainly not to be underestimated. It is the only Ugandan national park (besides to Kidepo Valley NP) which is home to zebra, eland and impala, as well as an abundance of other wildlife - not to mention the lake itself, which is teeming with hippos and crocodiles!
You are expected to arrive in time for lunch and thereafter go out on an afternoon game drive in this small yet rich habitat. Other than zebra, hippo and crocodile, it is also home to 350 bird species as well giraffe, eland, buffalo, oribi, Defassa waterbuck, leopard, hyena, topi and reedbuck.
Journey Time: 6-7 hours
Lodge: 4 - 5 star
Meal Plan: FB
No. of nights: 1
Day 2: to Bwindi
After breakfast, continue your journey south west – lunch box in hand to Bwindi Impenetrable National Park or Mgahinga Gorilla National Park. This will be dependent on availability of tracking permits for the date as it has recently become a popular tourist activity with limited availability.
Arrive at your lodge sometime late afternoon, dinner and overnight.
Journey Time: 6 hours
Lodge: 4 - 5 star
Meal Plan: FB
No. of nights: 2
Day 3: Bwindi / Magahinga
Today is the big day… prepare yourself for an encounter with one of world's gentle giants: the endangered mountain gorilla. For most people this is the absolute highlight of their tour in Uganda.
Bwindi Impenetrable Forest boasts both mountain gorillas and chimpanzees - the only forest in Africa which can make this claim. It also hosts five other species of primate, 113 species of mammal, over 200 butterflies and 360 birds. While Mgahinga Gorilla National Park sits high in the clouds, at an altitude of between 2,227m and 4,127m. Mgahinga's most striking features are its three conical, extinct volcanoes, part of the spectacular Virunga Range that lies along the border region of Uganda, Congo and Rwanda. The volcanoes' slopes contain various ecosystems and are biologically diverse, and their peaks provide a striking backdrop to this gorgeous scenery.
The time taken to track the gorillas can be as few as 2 hours to as many as 7 hours. Once the gorillas have been located, your group will be allowed a maximum of one hour with them. Coming face-to-face with a mountain gorilla is a truly humbling and emotional experience. This is a fantastic and privileged opportunity to get up close and personal with Uganda's very own 'Gorillas in the Mist'.
Day 4: to Queen Elizabeth N.P.
After breakfast, transfer to Queen Elizabeth via the Ishasha sector. Ishahsa is home to the famous tree-climbing lions. While lion cubs around the world frequently climb trees for fun, adults rarely do. The adult lions in Ishasha are an exception to this. If you are lucky you might spot a few during your game drive!
Queen Elizabeth is Uganda's second largest park, located at the base of the majestic Rwenzori Mountain range, adjacent to Lake Edward and Lake George. The park has prolific game, including gazelle, Uganda kob, warthog and waterbuck. Lions are often sighted both in and at the entrance to the park. Be prepared for huge numbers of hippo and elephant, and keep your eyes peeled for a leopard lazing in the sunshine.
Journey Time: 5 hours
Lodge: 4 - 5 star
Meal Plan: FB
No. of nights: 2
Day 5: Game drive and boat safari
Today you wake up early. A little before sunrise; this is a great time to view game before the sun is fully out. Breakfast will be served early or parked to go before we head out to get up close to wild Africa.
Take a boat safari after lunch along the Kazinga Channel which joins Lake George and Lake Edward. Here, you will see a lot of hippos (more than you can possibly imagine!), as well as a variety of other animals which come to the waterhole to drink or bathe. You can expect to see buffalo, crocodile, bathing elephant, and a range of beautiful birds.
Day 6: Welcome to Kenya
Travel north east to Entebbe international airport for a scheduled flight to Kenya. On arrival at Jomo Kenyatta international airport your driver/guide will be waiting to pick you up. You will spend your first night in Nairobi which has several tourist attractions like Nairobi National Park, Giraffe Centre, Elephant Orphanage, Karen Blixen Museum and the Bomas of Kenya. Depending on your time of arrival you can visit these sites at your own cost.
Journey Time: 5 hours
City Hotel: 4 - 5 star
Meal Plan: B&B
No. of nights: 2
Day 7: to Lake Nakuru National Park
After an early breakfast, head to Lake Nakuru national park taking a short stopover along the way at Thomson Falls and the Rift valley view point from where you can take beautiful landscape pictures.
On the floor of the Great Rift Valley, surrounded by wooded and bushy grassland, lies the beautiful Lake Nakuru National Park. Enjoy the ecological diversity and varied habitats that the surrounding escarpment and picturesque ridges offer.
Set off on a game drive in the park on arrival.
Journey Time: 5 hours
Lodge: 4 - 5 star
Meal Plan: FB
No. of nights: 1
Day 8: to Masai Mara
After an early breakfast you will head to the world famous Masai Mara game reserve on the border with Tanzania. An excellent year round animal concentration and known for its typical short savanna plains. It is also home to the great migration in the months July – October when two million Wildebeest make their way northwards from the Serengeti in Tanzania.
On arrival at the gate you will have a long en-route game drive towards your overnight accommodation where you will spend the coming two nights. Set off on a game drive after lunch to spot lions, buffaloes, antelopes and hippo's and crocodiles in the Mara River.
Journey Time: 5 hours
Lodge: 4 - 5 star
Meal Plan: FB
No. of nights: 3
Day 9: Rest day
Enjoy a full day of rest to recover from the activities so far before another full day tomorrow. Take advantage of your surroundings and the lodge facilities. A visit to the spa is recommended.
Day 10: full day in the Mara
Today you will have a full day of game drives ahead. Before sunrise you will try to spot different predators that might made a kill the previous night. You will then return to lodge for while the sun rises over the game reserve.
You can decide to take a packed lunch for a full day game drives or come back at the camp for a hot lunch. The secret on sighting a lot of animals is to do different game drives on different time and areas for the highest success rate.
After this exciting day, return to lodge, relax – dinner and overnight.
OPTIONAL: hot air balloon taking off in the beautiful early morning, you drift above the browsing game and have tremendous opportunities for unusual photographs. What could be more uplifting than an early morning safari in a hot air balloon flying over the vast plains of Africa? Witness an African sunrise as a plethora of wildlife roam the land beneath you. At the end of the flight you land on the plains, in the midst of this enchanting savannah a champagne breakfast is laid out with the mouthwatering aroma of sausages, eggs, and bacon, sizzling over a charcoal fire. Drive in a leisurely fashion with game viewing on your way back to your camp – US$ 425 pp.
Meal Plan: FB
Day 11: Return home
Depart Masai Mara after breakfast driving to Nairobi to arrive in the early afternoon hours with drop off at a Nairobi city hotel or Jomo Kenyatta International Airport in time for your return flight home.
END OF SERVICE.
Tour Cost: $3,400pp based on 2 pax sharing
Price Quotes Include:
Ground Transportation throughout the trip in a private 4WD safari vehicle
1 x Gorilla tracking permit ($600 pp included)
Internatl flight (Entebbe – Nairobi)
Meals and activities as stipulated in program
Services of an English-speaking driver/guide
Bottled drinking water while on safari
Park or reserve entry fees - where applicable
All Excursions mentioned in the itinerary
Lots of fun in the African sun!!!
Price Quotes Exclude:
Air fares
Visa, international flights and departure taxes - unless specified in the itinerary
Tips
Inoculations and personal insurance
Optional activities and excursions
Items of personal nature such as beverages, telephone, postage etc